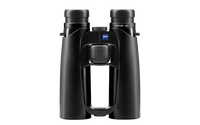 Living the New Passion for Birding. Experience the ZEISS VICTORY SF. Rediscover the world of birdwatching with the ZEISS VICTORY® SF. You can experience every spectacle nature has to offer with brilliant optics and an unparalleled wide-angle field of view. Thanks to its light weight, unique ergonomic design and dynamic fast-focus feature, the VICTORY SF allows for hours of relaxing birding without fatigue. The VICTORY SF is the new benchmark for birding and wildlife observation in the 125-year development of ZEISS binoculars.
Brilliant visual experience
Newly developed Ultra-FL lens
The light transmission of 92% gives you the edge at dusk or on dark days. The newly developed, highly innovative Ultra-FL lens system also provides outstanding image quality. Multiple fluoride lenses made from the highest quality SCHOTT glass ensure even better colour reproduction and high detail resolution. A seven-lens eyepiece with field flattener ensures sharp focus all the way to the edges.
Faster viewing
Unparalleled wide-angle field of view
The VICTORY SF gives you the most open, natural view of all. Thanks to the extremely large wide-angle field of view, you will find what you're looking for far more quickly and reliably than ever before. The 10x42 VICTORY SF's 120m (at a distance of 1 km) and the 8x42 VICTORY SF's 148m are best in class. A close focus range of 1.5m allows you to watch the warblers and butterflies confidently and without hesitation – even in thick vegetation.
Comfortable discoveries
The most ergonomic in its class
The light weight and exceptional ErgoBalance-Concept allows viewers to become one with their binoculars and surroundings. The ZEISS VICTORY SF features lightweight materials and a unique high-traction armor for ergonomic comfort that is truly unparalleled. Weighing in at just 780g, it is the most ergonomic in its class – and allows for many hours of fatigue-free viewing. The VICTORY SF takes a considerable amount of weight off the neck and shoulders.
Best focus
ErgoBalance-Concept
We think that intuitive means more than just "simple". More than anything, it means fast. Being able to use binoculars quickly and easily is essential in birding as you try to focus on rapidly moving objects at varying distances. The outstanding SMART FOCUS concept allows you to respond as quickly and intuitively as if the binoculars were your seventh sense. Once you've tried the VICTORY SF, you'll never want to live without them. Another advantage of the ErgoBalance-Concept is the shift in center of gravity within the binoculars, which makes them feel much lighter to use. What once seemed heavy is comparatively light, allowing for hours of fatigue-free viewing.
Top quality workmanship
Made for the outdoors. For always.
In addition to its extraordinary optical performance, you will be immediately impressed by the design and workmanship of the ZEISS VICTORY SF binoculars. Durability and excellent production quality are requirements for all ZEISS Sports Optics products – standard features, not extras. This means that you can enjoy many, many years of nature experiences first hand, even in the toughest conditions. Only the best survives.
Specs
Magnification
10 x
Effective Lens Diameter
42 mm
Exit Pupil Diameter
4.2 mm
Twilight Factors
20.5
Field of View at 1000 yd
360 ft
Subjective Viewing Angle
6.5 °
Close Focus in Ft
5 ft
Diopter Adjustment Range
+4 | 4 dpt
Pupil Distance
54 - 76 mm
Eye Relief
18 mm
Lens Type
FL/HT
PrismSystem
Schmidt-Pechan
Water Resistance
400 mbar
LotuTec®
yes
Nitrogen Filling
Functional Temperature in °F
-22 | +145 °F
Length in Inch
6.8 inch
Width in Inch
at an eye width of 65 mm
4.9 inch
Weight in Use in oz
27.5 oz
Order Number
524222