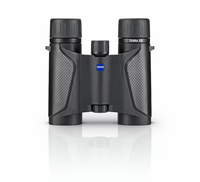 Take higher performance into the field. TERRA Binoculars combine SCHOTT ED glass (TERRA ED 32+42) with ZEISS MC coating for pure, bright and vivid images, even in low light. With an awesome close focus and a wide-angle field of view, you'll never miss a thing. And their extremely compact size aids mobility in the field.
For those who believe that real adventure begins where pavement ends, now there's a binocular that's designed to go where you go. The rugged new TERRA ED Pocket 8x25 from ZEISS delivers stunning optical performance that betrays its small, compact design. With 8x magnification, precise focusing and just 10.9 ounces, the TERRA ED Pocket stows away easily in your pack without adding undue weight or bulk. In fact, the only thing that may slow you down out there is a beautiful view.
Brilliant, razor-sharp images
TERRA ED binoculars combine optical precision and hydrophoic multi-coating to deliver stunning optical performance in all conditions. This state-of-the-art coating ensures beautiful, crystal clear images, even in low light situations.
Precision at close quarters
Active outdoor lifestyles demand compact, durable and versatile binoculars. The ZEISS TERRA ED delivers razor-sharp images of far-away objects. But it can also observe nature up close with great precision. With a generous wide field of view and a close focus distance of just 5.25 ft (TERRA ED 32+42) or 6.23 ft (TERRA ED Pocket), the TERRA ED is ideal for nature observation, whether the object is far across the field or in the tree just above you.
Compact, light and robust
The ZEISS TERRA ED family is lightweight and trail-tough so it packs easily and stands up to rugged terrain. Easy-grip surfaces let you grab and lift the binoculars quickly to your eye. Smooth focus and ergonomically correct eyecups make viewing comfortable and natural. At just 10.9 ounces, the ZEISS TERRA ED Pocket is the lightest weight model in its class.
Wide fields of view
With generous fields of view for their magnification, you can quickly pick out individual birds and wildlife from large groups and seek out hidden animals in clumps of bushes.
Optimal ergonomics
Comfortable observation is not just a matter of lenses. Ergonomics plays a major role, too – The TERRA ED shares the ZEISS binocular family's innovative modern design. The comfortable focus system with the large focussing wheel ensures easy handling, optimum grip and precise focussing even wearing gloves. The eyecups round off its ergonomic perfection. Slightly slanted, they are carefully aligned to aid observational comfort.
Specs
Magnification
8 x
Effective Lens Diameter
25 mm
Exit Pupil Diameter
3.1 mm
Twilight Factors
14.1
Field of View at 1000 yd
357 ft
Subjective Viewing Angle
52 °
Close Focus in Ft
6.23 ft
Diopter Adjustment Range
+3 | -3 dpt
Pupil Distance
35 - 72 mm
Eye Relief
16 mm
Lens Type
PrismSystem
Schmidt-Pechan
Water Resistance
100 mbar
LotuTec®
no
Nitrogen Filling
yes
Functional Temperature in °F
-4 | +145 °F
Length in Inch
4.4 inch
Width in Inch
at an eye width of 65 mm
4.5 inch
Weight in Use in oz
10.9 oz
Order Number
522502