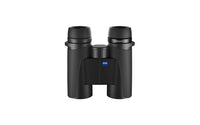 The new CONQUEST HD 8x32 is a lightweight model that is ideal as lightweight binoculars for hiking, traveling and animal observations. Its compact size makes it a convenient companion in difficult terrain. The 8x magnification provides a wide panorama and shake-free images. The close focus of just 6.5 feet allows you to experience crisp images and clear colors up close. This is particularly beneficial when watching butterflies or other insects. (These are the best butterfly and dragonfly glasses ever made!) The CONQUEST HD 8x32 satisfies all ergonomic requirements: the focusing wheel is so conveniently placed that it can always be quickly and easily used.
HD lens system
Observe nature in high definition. The new HD lens system provides exceptionally true and neutral color fidelity: a visual experience that sets new standards in its class. The tried and true Carl Zeiss T* multi-layer coating ensures that the CONQUEST HD offers light transmission of more than 90%  – optimum requirements for impressive observation in twilight conditions.
Compact and lightweight
For long excursions or spontaneous walks, the CONQUEST HD is particularly compact and lightweight. The slim housing is particularly compact, its robust design protecting the inner workings, and high-quality aluminium makes the CONQUEST HD a pleasantly lightweight companion.
Precision at close quarters
Every CONQUEST HD model offers precise, and unusually close focus: x42s to 6.5 feet, and x32s to under 5 feet. Whether you are watching birds, insects or butterflies at close quarters, with the CONQUEST HD you will be able to see the finest detail in clear, natural, vivid color.
Wide fields of view
You can quickly pick out individual animals from large groups and seek out hidden birds in clumps of bushes. The CONQUEST HD 10 x 42, with the widest field of view in its class, is the perfect option in this instance. You can enjoy effortless observation and a particularly steady image with the CONQUEST HD 8 x 42. The x32s have class leading fields of view and exceptional close focus. Whichever model you choose, these binoculars promise detailed insights at every distance.
Optimal ergonomics
Comfortable observation is not just a matter of lenses. Ergonomics plays a major role, too – and this is where the modern design of the CONQUEST HD comes into its own. When you reach quickly for your binoculars your index finger sits almost automatically on the large focussing wheel while the remaining fingers rest on the specially moulded grip. The eyecups round off its ergonomic perfection. Slightly slanted, they are carefully aligned to aid observational comfort. Light and secure handling is combined with superb comfort for your observation of the natural world.
Robust and precise
The CONQUEST HD is both lightweight and extremely robust. With any of our four models you can be well prepared for any adverse conditions when observing nature. The housing is made of high-quality aluminum. The inner workings are therefore perfectly protected, ensuring the long-term precision of the HD lens system. The CONQUEST HD - always a reliable companion, ready for any tough use.
Made in Germany
A revolution in design, ergonomics and optics. The perfect "Made in Germany" experience combines ZEISS quality with state-of-the-art technology. Plus, these binoculars represent an outstanding price performance ratio. All this makes CONQUEST HD the uncompromising entry into the premium class of Carl Zeiss.
Innovative lens coating
Water simply rolls off the lens as it does from a lotus leaf, leaving no trace. The LotuTec® coating on the lens and eyepiece ensures that water or snow simply roll off the surface of the glass. Since neither water nor dirt can collect on the surface of the CONQUEST HD you can spend less time cleaning and more time watching nature.
Specs
Magnification
8 x
Effective Lens Diameter
32 mm
Exit Pupil Diameter
4 mm
Twilight Factors
16
Field of View at 1000 yd
420 ft
Subjective Viewing Angle
64 °
Close Focus in Ft
4.9 ft
Diopter Adjustment Range
+4 | -4 dpt
Pupil Distance
54 - 74 mm
Eye Relief
16 mm
Lens Type
HD-Type
PrismSystem
Schmidt-Pechan
Water Resistance
400 mbar
LotuTec®
yes
Nitrogen Filling
yes
Functional Temperature in °F
-21 | +140 °F
Length in Inch
4.9 inch
Width in Inch
at an eye width of 65 mm
4.5 inch
Weight in Use in oz
22.2 oz
Order Number
523211