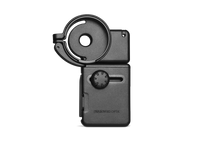 A pair of binoculars or a spotting scope combined with a smartphone and the VPA 2 variable phone adapter enables you to take beautiful photos. Now your sightings will not only be preserved in your memory, but also on the memory chip of your phone.
VPA 2 variable phone adapter
With the VPA 2 variable phone adapter, you can connect your smartphone (whether iOS or Android) to your SWAROVSKI OPTIK binoculars or spotting scope in an instant to capture the wonder of nature. The VPA 2, weighing only 104 grams (3.7 oz), is characterized by its particularly easy handling as well as excellent stability and can be adjusted exactly to the position of your smartphone camera. The VPA 2 must be fixed to the binoculars or telescope with a corresponding clamp adapter.