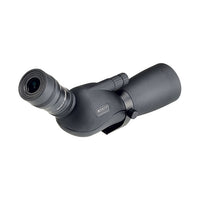 The MM3 60 GA series is the latest evolution of the popular travelscope concept pioneered by Opticron with the original Mighty Midget. Combining all the things that have made Opticron travelscopes the #1 choice for so many wildlife observers over the years, the MM3 60 GA are designed and engineered to deliver the company's maxim of "smaller, lighter, brighter, sharper" to a new generation of spottingscope users.
Constructed from polycarbonate and lightweight alloys, the super-compact optical system creates a body, without eyepiece, only 8.1" long and weighing just 32.4oz. 
Fitted with the HR3 16-48x, the MM3 60 GA can be used without a support for crystal clear flat field observation at magnifications below 20x. Unlike a pair of binoculars, it continues to deliver stunning clarity and definition up to 45x when supported on a clamp, monopod or tripod.
Compatibility with the full range of HDF and SDL eyepieces means existing fieldscope owners can use their eyepieces with a new MM3 body. Fully rain and dust proof and protected against knocks and bumps with full-body rubber covering, the MM3 GA is available in straight-through and 45° angled bodies to suit different uses. 
Included eyepiece: 41145 HR3 Zoom Eyepiece
High resolution zoom eyepiece with sufficient eye relief to give the full field of view with or without glasses for most users.
Features
Super-compact high definition optical system
High contrast fully multi-coated optical system
Accurate 8:1 dual focusing system
Close focus to 11.5ft
Fully armored body
Tripod adapter with +/- 90 degree rotation
Removable rubber objective lens cover
Telephotoadapter option
Limited lifetime warranty
Specs
| | |
| --- | --- |
| Item # | 40361 |
| Model | |
| Close Focus | 11.5 ft. |
| Eye Relief | 20-18mm |
| Weight | 33.4 oz. |
| Length | 12.8 in. |