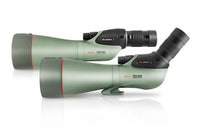 LARGE 99mm OBJECTIVE LENS
A large 99mm pure fluorite crystal objective lens paired with a Kowa XD the concave lens produces superior lowlight performance and exquisite
detail. This special combination combined with improved optical coatings virtually eliminates chromatic aberration even at high magnification.
DUAL FOCUS, PINPOINT CONTROL
The dual focus mechanism is the gateway to controlling the image between your eye and the scope. Exquisite engineering is refined to make the operation flawless. Quick focus allows for fast action to bring your subject into detail in just a few smooth revolutions, whilst Fine focus gives pin-point, finger-tip control offering the ultimate in focussing accuracy.
TOUGH, LIGHTWEIGHT & PORTABLE
Utilizing a100% magnesium alloy structure, the TSN-99 PROMINAR series spotting scope is one of the most compact and lightweight in its class of large objective spotting scopes making it more portable than many other models. A fully waterproof and nitrogen sealed shell plus Kowa KR coating on the optics makes the scope reassuringly rugged.
DESIGNED TO DIGISCOPE
The TSN-99 PROMINAR is 100% compatible with our KOWA SYSTEM accessory range giving you access to interchangeable eyepieces, accessories and digiscoping adapters for DSLR cameras and smartphones - creating a truly flexible optical tool for many applications.
EYEPIECE
KOWA TE-11WZ II 25-60X wide zoom for TSN 990/880/770 spotting scopes.
Specs
| | |
| --- | --- |
| Item # | |
| Close Focus | 16.4 ft. |
| Length | 14.9 (angled) / 14.3 (straight) |
| Weight | 63.8 oz (angled) / 64.7 oz. (straight) |