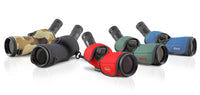 This item is currently backordered. Check back soon or email us to get notified when it's back in stock!
Note: Actual model received may vary from photo. 
This lightweight case has just enough padding to protect the scope inside, yet not too much bulk to weigh down the user during long distance excursions. Robust tough materials and stylish design. These water resistant cases are designed to remain on the scope even while in use and are also collapsable for easy storage when not in use.